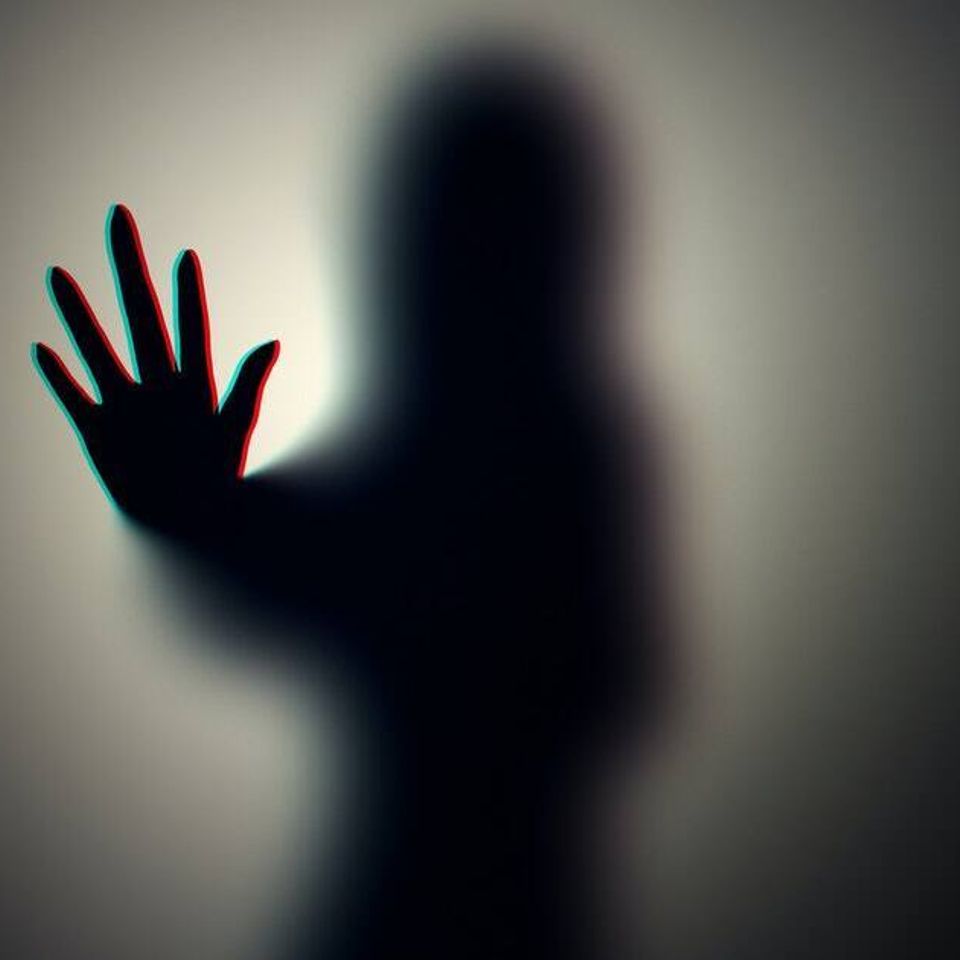 The Shadow
I saw her standing in the corner of my room, next to my closet; I caught her by surprise turning on the bedside lamp. She was invisible in the dark, but now surrounded by the light there was no place to run, no place to hide. I watched her put on a pair of my pants, a hat, and a shirt, but she wasn't the invisible woman, that didn't work.

A silly stupid dream I said in unbelief, shadows are not alive they are a reflection of what is, is not, contrast, an image of the absence of light. I started to turn off the light, and give her time to run away, but I was mesmerized by her reality, her circumstances, and mine, for a minute I understood this was no dream for she was real. I told her to take off my stuff. She wrote on the wall a shadow word, it said no. I laughed and then caught my breath in fear, this shadow is alive, where do I go from here?

I woke up at sunrise the next morning looking straight in the corner where she had been, and to my surprise saw my shirt, pants, and hat laying on the floor right next to the closet where she had been standing. Dumfounded by it all, in a trance, I froze in that moment unable to speak as a ray of sunlight landed upon my open bible that rested on my chest of drawers. Gathering up an ounce of courage, a cup of hope, and a pound of faith, I went to see like a child runs to a Christmas tree the morning after Christmas Eve, and there it was, the light had landed on two scriptures.

The light was divided, split by the windowpane. The first scripture was James 1:11- "For the sun is no sooner risen with a burning heat, but it withereth the grass, and the flower thereof falleth, and the grace of the fashion of it perisheth: so also shall the rich man fade away in his ways." Then I saw the other sort of light James 1:17- "Every good gift and every perfect gift is from above, and cometh down from the Father of lights, with whom is no variableness, nor shadow of turning." I looked up in awe transfixed by the serendipity and revelation of this sign from God. I then whispered to myself nothing is impossible with God.
I called up my pastor that morning and told him I was going on the mission trip and that I had heard from God. Sadly the pastor responded, "Until last night there was no more room for the mission trip, but you may not know, Jennifer in the choir she died, she died instantly in her sleep last night. It was a congenital heart defect, she was only 25." My God! I said, my God, as the pastor hung up I remembered Ecclesiastes 3:1 and 3:2, it says "To everything, there is a season, and a time to every purpose under the heaven: a time to be born and a time to die, a time to plant and a time to pluck up that which is planted."

I became a preacher and oh yes, I went on that mission trip to Honduras and won thousands to the Lord. I wrote this poem in honor of all of the Jennifers in the world who opened so many doors for others even in death, winning even more souls in death, their works follow them all the way home.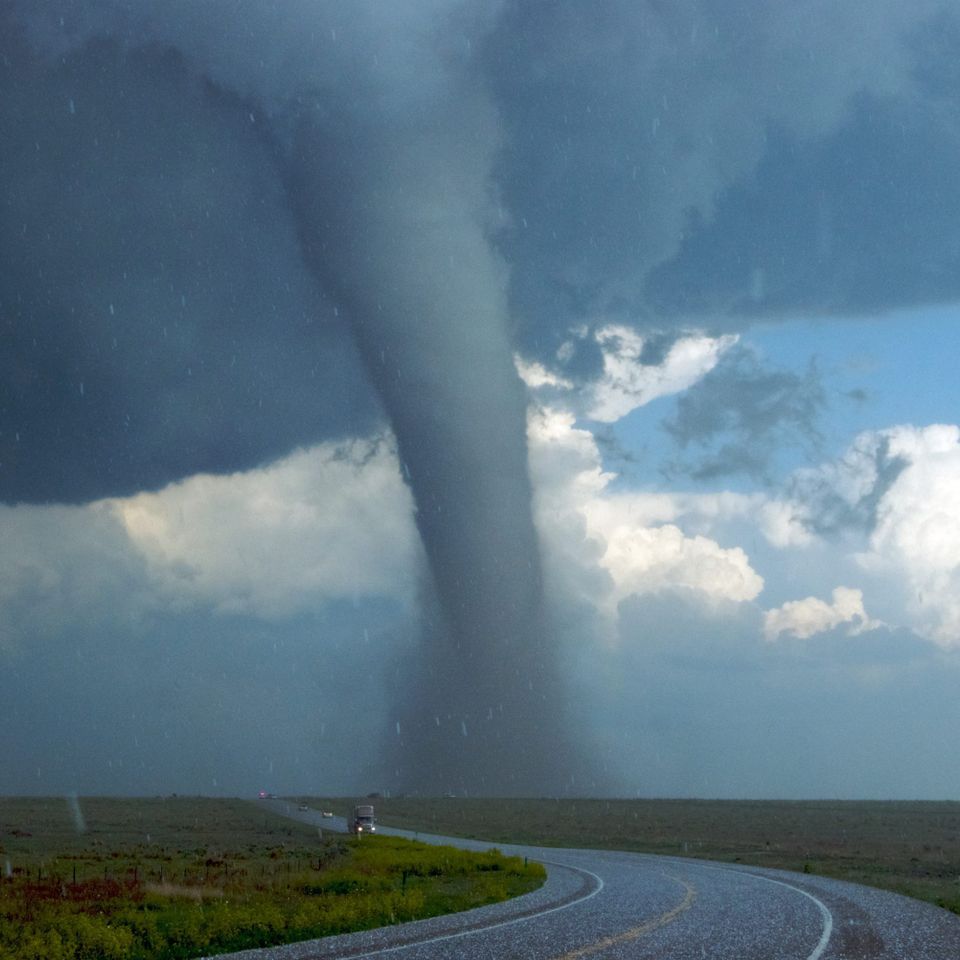 The Tornado… Serendipity
Inside the tornado, I saw below through a tunnel of air, houses to foundations laid bare. The silos were untouched cars scattered here and there, in trees and cornfields like so many toys outside their box in a messy children's room.

Lightening flashing everywhere worse than any nightmare, horror movie… this was real!
I saw sunlight miles away reaching out for me, now spinning like a top I closed my eyes in fear wondering "Why me Lord?... Why am I still alive?"
Pass the fear of death in shock resigned to this design of my fate, as only a shred of hope remained, in the wonder and the thunder of this creation, this destruction, I cried out… "Where are you God?, Help me Lord."

Instantly I was spat out, like Jonah from his disobedient fish, landing roughly in a very unhappy tree… serendipity or amazing grace, who can tell?

Then I saw what appeared to be eyes and a mouth looking back at me, as the tornado passed by. I heard him say, "Why did you have to ask that question!?, Why did you have to bring God into it!?"
Suddenly I was struck by a bright ray of light and began to cry… I knew why!... Reality check, as life and death, God, and 911 flashed inside my mind.

Remembering that face, those fiery red eyes of that tornado, the darkness, and the groaning of that evil storm, I wondered as the joy of being alive rose up in me… could that have been the Devil? Was that the price of the power of air? Did God just save me?
Suddenly in the blink of an eye, I woke up in a hospital bed… the first thing I said was "Where is my tree? Where am I?... Man, what a story I have to tell!"

The smiling nurse, an angel in white said to me… "It's all gone, the cancer Chad, it is gone!!! You had a lot of people praying for you. It was a miracle Chad, I've been waiting on you to wake up, to tell you the good news.

There was a storm, a tornado last night you slept right through. That tornado cracked your window over there!" she said, as she pointed across the room.

The crack curved down and then up, side to side, a foot across. It looked just like a smiley face… now I remembered everything.
Overwhelmed by it all, I looked at the nurse and all I could say was… "That's amazing, he heard my prayers! God really does answer prayers."

The dream you say?... well it was to increase my faith… icing on the cake!